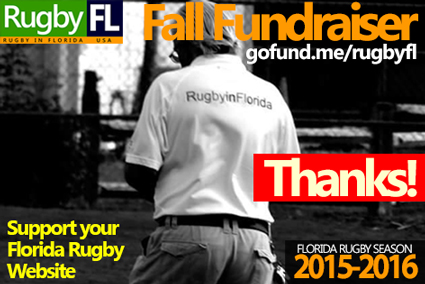 To the Florida Rugby Community.
I have developed Rugby in Florida (rugbyfl.com)  for the past three years, pretty much on my own. During this time, I have supported every single segment of rugby in Florida: men, women, college boys and girls, high school, youth, referees, unions, clubs, teams, events, tournaments and so on.  Even a bunch of GoFundMe's.

At this time, in order to be able to continue my work and improve it for all Florida rugby, I need some financial support. And who better to provide it than the Florida rugby community as a whole. 

This campaign is aimed to cover the period between August and December 2015. Another campaign will be launched in December for the other half of the season.

The $5000 goal will allow the site to continue to provide all the services that you already know, and add some new ones. This goal translates to 32 cents per registered player per month. Not much, right? 

Thanks for your support. I hope we can continue to have the best website for rugby in the USA.
The link is http://www.gofundme.com/rugbyfl





--Carlos "Charlee Velázquez

F E A T U R E D V I D E O S
Rugby in Florida | Touch Rugby
Miami Touch Rugby vs. Fort Lauderdale Touch
Championship and Friendly Games (1)
Team mentioned first is the home team.
*This information is provided to the best of our knowledge. Details may change at any time. Not official information.
What is going on? News & Articles
This article is just a quick overview on how the FRU's Sevens Season is structured.
6/7/2015 7:15:04 PM
The best season ever for Florida High Schools ends tomorrow, Saturday, April 25th as the finals are decided in the Cup, Plate, Bowl and Shield.
4/24/2015 1:49:26 PM
One more day until the big Tournament. Results will be posted as they occur on our Facebook page.
4/24/2015 10:39:53 AM
Playoffs! Have you seen the Goff Rugby National High School Rankings? Orlando, Naples, Daytona, and Riviera Beach are all in the top 20. Some scoff and say it is one guy's opinion. Swami agrees but Alex is arguably the most knowledgeable journalist there is on the topic of High School (and College Rugby) in the USA. So, it matters. And these teams are deserving of the recognition. Time for the playoff picks!
4/15/2015 8:54:33 PM
It has been a great season for High School Rugby in Florida. There have been some ups and downs and we lost several school based programs over the years. But the HS and youth games in our state have never been stronger. The future is exciting as more and more coaches get involved to bring the game to more and more young men and women.
4/9/2015 3:14:27 PM

2015-16 Season's
Championships (9)
This is the list of current championships we are following in Florida. Click for details.
Ref, can I ask you a question?
Who hasn't had a question for the referee during the game. Well, here are some answers from them. Not only about the game